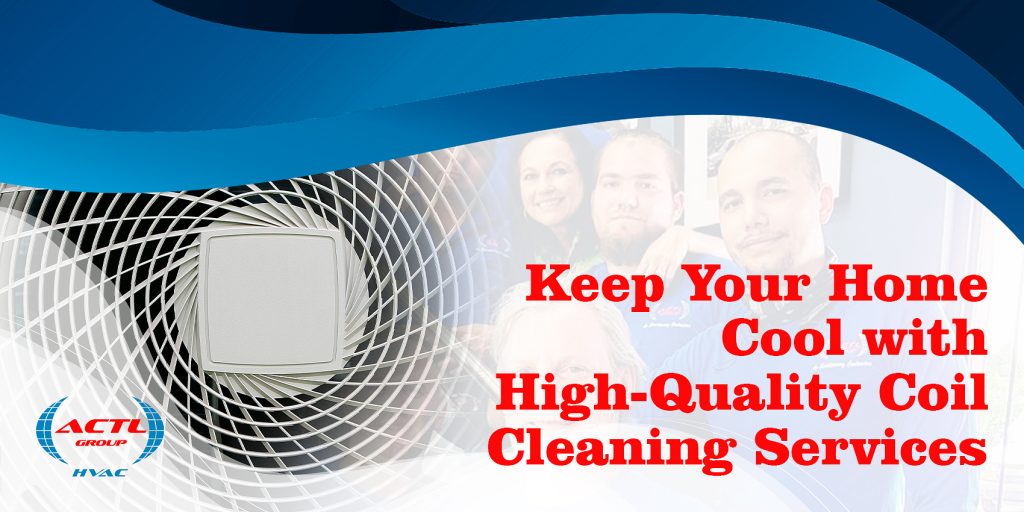 Did you know that cleaning your air conditioning coil can improve the efficiency of your cooling system? Did you know that cleaning it regularly could extend the life of your air conditioner? Did you know that cleaning it poorly could reduce its life and efficiency? That's why, if you're looking to keep your house cool and comfortable, we suggest you look for a coil cleaning service.
Here's everything you need to know about coil cleaning services for air conditioners – what they are, how they work, and why they're essential. Continue reading to find out.
Professional Coil Cleaning Services for Maximum Results
– One important aspect of efficient air conditioning is proper coil cleaning. This is vital to ensure efficient heating and cooling, and also to protect the system from potential damage. – The cost of coil cleaning services can often be made back in six months or less, as these services help reduce energy costs and improve the overall efficiency of the system.  – By regularly cleaning the coils, air conditioners can last longer and operate more efficiently, reducing energy consumption and saving money on electricity bills. – Another benefit of professional coil cleaning is improved air quality. Cleaner coils help enhance airflow through the system, improving the quality of air inside your home.  In addition, professional coil cleaning services can help remove dirt, dust, and other particles that could potentially harm your air conditioner's sensors. This ensures optimal performance and longevity for your system.
Take Advantage of Professional Coil Cleaning Services
– Professional coil cleaning services, such as those offered by AC repair companies, help to save you time and money in the long run. – Professional coil cleaning services ensure your system works efficiently and reduces power bills. – Professional coil cleaning services help to reduce system breakdowns and improve the comfort of your home. – Professional coil cleaning services offer a range of benefits that include cleaning the outdoor unit with a garden hose, removing dirt, hair, and other debris, and using foam coil cleaners. – With professional coil cleaning services, you can be sure that your air conditioner is being properly cared for and maintained. Not only will it help to protect your system from damage and breakdowns, but it also ensures that your air conditioner's performance is optimal.
The process for professional coil cleaning services
Professional coil cleaning services are vital for maintaining an efficient air conditioning system. Dirty evaporator and condenser coils can reduce the efficiency of a heating, ventilation, and air conditioning system and increase energy bills. Additionally, indoor air quality can be improved with professional coil cleaning services. This may include using specialized tools to remove dirt and debris from the coils, which could potentially help prevent the growth of mold and fungus in the system.  Additionally, professional coil cleaning services can enhance system efficiency by treating the coils with chemical agents. These treatments may help reduce the buildup of mineral deposits on the coils, which can decrease air conditioning efficiency and lead to higher energy bills. Plus, professional coil cleaning services provide a safe, effective way to ensure your air conditioning system is running at peak performance.
Get the Best Results with Nu-Coil A/C Coil Cleaner
Nu-Coil A/C coil cleaner is a professional-grade manual cleaning concentrate that is designed to clean grease sludge, muck, and grime from external air conditioning coils. The high-foaming agent in the product effectively removes dirt and grime from the coils, preventing them from becoming dirty and clogged. This will help improve the efficiency of the air conditioner and increase its lifespan. As a general rule, you should use Nu-Coil A/C coil cleaner once every six months to keep your AC's coils clean and functioning optimally. To get the best results, you can dilute the product with 3 to 10 parts water depending on the amount of foaming action and the level of cleaning required. Regular coil cleanings are necessary to maintain your AC's performance, efficiency, and longevity. Besides, Nu-Coil A/C coil cleaner is environmentally friendly, safe to use, and easy to handle. Also, it doesn't contain harmful chemicals or contaminants that may cause harm to humans or the environment.
Quality Coil Cleaning for A/C Units
AC coil cleaning is a necessary step to ensure energy efficiency and the comfort of your home. Regular coil cleanings can help prevent the buildup of dirt, dust, and mold that can lead to system failures and potential health risks. Keeping your coils clean is important for ensuring the overall performance of your unit. This includes regular checks for signs of wear and tear, such as frozen coils or uneven cooling.
How Does Coil Cleaning Improve Home Cooling?
When it comes to home cooling, coil cleaning is a vital step that can help improve the efficiency of a system. As the name suggests, coil cleaning involves the thorough cleaning of coils in an air conditioner. This helps remove dirt and debris from the coils, which can lead to erratic functioning and breakdowns. It also reduces power bills as it helps optimize the heat exchange process and prevents corrosion. Besides, regular coil cleaning can help prevent system breakdowns and improve overall system efficiency.
Tips for maintaining a clean air conditioning system
Regularly cleaning the air conditioner coils is a great way to ensure efficient operation and reduce energy consumption. Neglected coils can increase energy consumption by as much as 15% which can quickly add up to costly bills. Any condenser or evaporator coil system should be checked for grime and debris at least once per year, and coils should be replaced as needed to maintain optimal performance. This will also minimize time spent without cooling, which can lead to costly repairs and downtime. Professional coil cleaning services can help keep homes and businesses comfortable while lowering utility bills. By taking these steps, everyone can enjoy clean air conditioning all year round.
Conclusion
There's no other way to say it – coil cleaning is essential for cooling system performance. Dirty air conditioning coils reduce airflow, causing your system to work harder and making your home warmer. This can lead to uncomfortable temperatures and unwanted humidity. The good news is that coil cleaning is easy and affordable. You just have to find the right cleaning solution and a trained technician to ensure that the job gets done properly. To get professional coil cleaning services, contact us today.